Edward C. Reese
NCCS(CRF) USN, Retired

NCCM, NYNM

"With Lots of Hard Work" Dreams Come True For Chief Reese

by Journalist 1st Class Don Whitehouse, USN
When Ed Reese left western New York over 50 years ago, he had an itch. He found a way to scratch it in the Navy. He found hard work, laughter and friendships that have stayed with him all these years from all over the world, and more hard work.
"Lots of hard work, all right," he nods, "but like an old salt told me a long time ago, a ship sails on elbow grease."
"The work isn't just work, though. It seems to me that anything worth getting involved in, be it service in the Navy, or service to NAVetsUSA, has to have a lot of hard work attached to it. The adventure that goes with that sort of life is what makes it all worthwhile." The smile that follows that statement is translatable only by another shipmate.
Adventures were found in different ports, as were different cultures to experience. Hard work back then involved long hours at sea that were exhausting at times. But, once in port, his labors were rewarded with "a lot of fun."
"Oh, I guess I'm quieter now than I was then. I've got different responsibilities now than back then."
He leans back in his chair, pulls out the bottom desk drawer to use as a foot rest, and slowly shakes his head in wonder, at past days before continuing. "I would have to be quieter now. I mean, there's no way the human 'body can stand for long some of the things I put it to. I tell you true I can remember some mighty long hours packed into some mighty short nights before I got better sense!"
Reese is back home now, Retired from the Navy, owner of a local print shop, founder of NAVetsUSA and the NAVY CLUB of Lake Ontario, and he's telling his story to anyone who qualifies to join." Once a recruiter, always a recruiter". Reese first joined the Navy Club, USA back in 1972 while on recruiting duty in Lockport, NY and renewed his membership whenever his naval service permitted. He founded NAVetsUSA in 1996, "after becoming hooked on the 'net' and realizing the vast potential for promoting the Navy online."
"Adventure? Yep, I'm willing to tell people about some of the places I've been to, and about some of the things I've seen. But adventure is just part of what I'm talking about. I've discovered time." He pauses to smile. "I'm talking about reaching for the dreams before you forget how to dream. That's what I left home for and regardless of all the other things that came my way, the realization that I didn't let those 30 years of my life slip by me is my most precious memory."
Reese's first duty assignment back in 1965 was aboard "Old Ironsides", the oldest commissioned ship still in service. The U.S.S. Constitution served during the War of 1812. He was part of the ceremonial national honor guard there for a year. Other tours of duty have taken him to Guantanamo Bay, Cuba, the West Coast, the Mediterranean and Carribbean seas, aboard subtenders and destroyer tenders, and "all over the Atlantic Ocean."
His last sea duty assignment was aboard the aircraft carrier U.S.S. Forrestal (CVA-59), where he worked in graphic arts, ran the ship's print shop and was involved in flight operations. He helped publish the carrier's daily newspaper. "It was like a small town on board there," he fondly recalls. Funny how he is now the owner of his own printing business.
Ah, but the time for adventure was then. Times have changed.
"No," Reese argues easily, "It's now, too. You know what they say... about the only permanence being change. We don't believe for a minute that what is here right now will be just like this 28 to 30 years from now.
"Take Brockport (NY), for instance. Hey, this was a small town back then. I still can't believe the changes. The State University at Brockport? Same thing, a tremendous change and still growing. The naysayers said it couldn't be done but Brockport now, has it's own Navy Club. Like the commercial says, go for the gusto now, because it doesn't remain the same forever."
Reach for your dreams. Join NAVetsUSA, and serve, if you can. The Navy needs you now more than ever.Watch your fantail, some of us are not afraid of hard work. We are full speed ahead, and for the good of the ship, willing and able to take your place! But, most important, don't bounce around thinking that you'll get it all together later. Dream decision time is right now!"
Retired to Florida and still active in Veteran's affairs.
Check out his NAVetsUSA Facebook page at https://www.facebook.com/USNVets/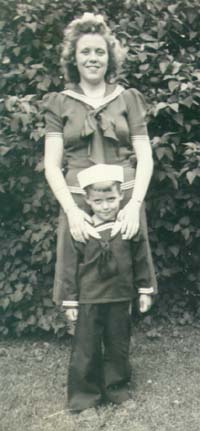 ...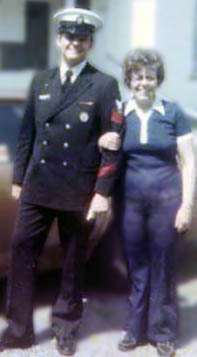 Once a "Sailor", always a "sailor".
Ed and Mom. 1949 and 1973
https://www.youtube.com/watch?v=g4Hz7uABgkw&t=36s